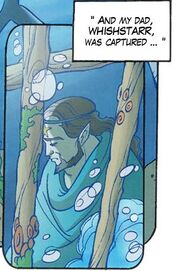 Wishtarr is the a Saarnin King of Starfish. He was the father of Mareeve.
He was captured by Orristur when he invaded their kingdom. However Orristur was unable to fully claim the kingdom but it is hinted that he must marry first the daughter of Wishtarr, Unfortunately for Orristur, Mareevee already fled before he was able to catch her.
Ad blocker interference detected!
Wikia is a free-to-use site that makes money from advertising. We have a modified experience for viewers using ad blockers

Wikia is not accessible if you've made further modifications. Remove the custom ad blocker rule(s) and the page will load as expected.