William Collins
is the one-year-old half-brother of
Wilhelmina Vandom
.
Story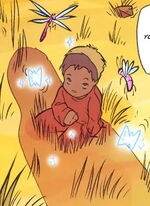 At first, Will was proud of having a brother, but when relatives started arriving, they keep calling William "Will" and Will "Wilhelmina," which she didn't like at all. This caused Will to start disliking her brother, until when she discovered that he has magical powers, she then wanted to keep him safe for being so young. It was shown that William has a liking bond to Will, even in times when she had to go to the rescue of saving him from evil, such as the Dark Mother and the White Queen.
Powers and Abilities
William has shown he's able to:
Create floating bubbles - In which he could play inside of.
Enlarging his milk bottle - For more consumption.
Conjuring up astral Butterflies and wild Animals - In order for him to interact.
Grow similar wings to his sister and others from W.I.T.C.H. - In order for him to fly.
Surivive the transit between Earth and the Fast World.
Ad blocker interference detected!
Wikia is a free-to-use site that makes money from advertising. We have a modified experience for viewers using ad blockers

Wikia is not accessible if you've made further modifications. Remove the custom ad blocker rule(s) and the page will load as expected.