" When Lightning Strikes " also called (The Heart of the Salamander)
is the First novels by author Lene Kaaberbøl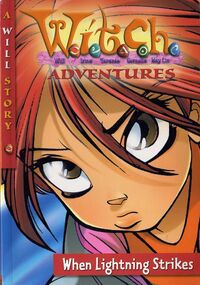 Synopsis
Will has a romantic crush on Danny Nova, a new boy in school.  He's cute, nice, and the best dancer!  But there is something strange about Danny....Soon after he comes to town, mysterious power outages start happening.  Will isn't in the dark for long, and she and her four best friends set off on a dangerous journey to solve the mystery.  Will needs to use her exceptionally powerful elemental abilities over pure energy to prove just how strong her Heart truly is.
Ad blocker interference detected!
Wikia is a free-to-use site that makes money from advertising. We have a modified experience for viewers using ad blockers

Wikia is not accessible if you've made further modifications. Remove the custom ad blocker rule(s) and the page will load as expected.