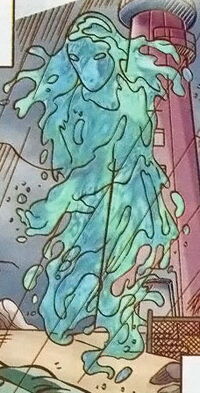 Water Shadows are water-based, elemental creatures that live on Earth.
Powers and Legends
The creatures first appeared in the 25th issue of W.I.T.C.H.
A Water Shadow appeared to a fisherman named Benjamin Crane. The Water Shadow saved him when he goes fishing while there's a storm, after wards the Water Shadow assumed Benjamin's image. It helped him find fishing spot with high level of luck and later Ben named the creature Jewell. This caught the attention of Mark Zibosky and it kidnapped Ben to blackmail and use Jewell in illegal gamblings.
The Water Shadow have the power of foresight and can make short term predictions. They can assumed any shape but once they acquire it they can no longer turn back into they're original form.
Jewell also sensed that Irma is the elemental queen of water and even called her the Water Queen.
Ad blocker interference detected!
Wikia is a free-to-use site that makes money from advertising. We have a modified experience for viewers using ad blockers

Wikia is not accessible if you've made further modifications. Remove the custom ad blocker rule(s) and the page will load as expected.