ABOUT W.I.T.C.H.
Comics:
W.I.T.C.H. is an Italian fantasy comic series written by Elisabetta Gnone, Alessandro Barbucci, and Barbara Canepa. The series was first published in Italy in April 2001 before the series was released in other countries. As of January 2005, W.I.T.C.H. has been released in over 65 countries. The final issue of W.I.T.C.H. was released on October 2012, concluding the series' 139 issue run.
Tv Series:
W.I.T.C.H. is a European animated television series based on the Italian comic book series of the same name. The series was produced by SIP Animation in association with and participation from Jetix Europe, The Walt Disney Company, France 3 and Super RTL. Like the comic, the show follows five girls: Will, Irma, Taranee, Cornelia and Hay Lin who have magical powers which they use to fulfill their duties as "Guardians of the Veil". The names of these five characters form the titular acronym, despite the characters not actually being witches. The series is set in the fictional city of Heatherfield and various mythical planets, namely Meridian and Zamballa. W.I.T.C.H. premiered on 18 December 2004 on ABC Family and concluded on 23 December 2006.
Featured Article of August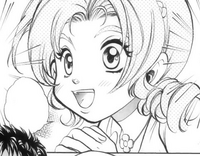 Irma Lair is a fictional character in comic book W.I.T.C.H. and the television series of the same name. She is one of the five teenage girls who are chosen to be the new Guardians of Kandrakar. Their mission is to protect Kandrakar, the center of the universe, and the other planets from evil.
(Read More)
POLLS
Thoughts about the show?
Who Is your Favorite Guardian?

 

What should be the featured article of Next Month?

 
|}
USERS
Please be aware that while on the W.I.T.C.H.ipedia you must be signed in otherwise you cannot edit/comment. If you are 13 years of age or older then click here to sign in and start editing! If you are younger than 13 years of age, you are not allowed to make an account due to laws against underage users.
Our Rules
Featured Photo of August
Irma using her powers
Help Needed:
Help us write synopses for every W.I.T.C.H. Issue and Book
LATEST BLOGS
FANON
As we try to keep a good, clean, and canon database for W.I.T.C.H., we don't want the Wiki to be cluttered with fanon material. You may upload, however, clean fanon pictures to your userpage and/or blog.
Ad blocker interference detected!
Wikia is a free-to-use site that makes money from advertising. We have a modified experience for viewers using ad blockers

Wikia is not accessible if you've made further modifications. Remove the custom ad blocker rule(s) and the page will load as expected.