Vathek
Talk

0
519pages on
this wiki
Vathek

Debut (Animated Series)
It Resumes
Personal Info
Gender
Male
Home World
Meridan
Abilities
Magical Items

Vathek was once one of Phobos' biggest supporters in Meridan. But, he started secretly working for Caleb and the resistance as a spy in Phobos' ranks.
Personality
Edit
Vathek is kind and loving but can act mean when needed.
Chronology: Tv Series
Edit
Vathek is a double agent for the rebellion and now keeps phobos imprisoned in the prison in the palace and 
happily serves Queen Elyon. 
Chronology: Comics
Edit
In the comics Vathek begins as Cedric 's henchman and companion, spying on Will and Susan as they move into their new apartment building and infiltrating the school Halloween party. While Cedric is approaching Elyon , Vathek tries to capture Will but is foiled by repeated accidents. He's about to take out his frustrations on Martin when he is chosen as winner of the costume competition (the staff thought his face was make-up) and the party is brought to an abrupt end courtesy of Uriah .
Vathek continues to act as Cedric's right hand man, infiltrating a group of rebels and leading them in an invasion of Earth to try to bring down the Veil so that they can escape Phobos . When Cedric's plan goes awry, Vathek sees Will save his master's life from the wrath of the rebels and is inspired by her words. Turning against Cedric he leads the rebels back to Metamoor and becomes a true leader among the rebels, now following Caleb 's leadership.
In this role, he guides Cornelia to Metamoor so that she can try to reforge her friendship with Elyon and seems to have made an impression on the princess, since she later goes to him for help in rescuing her adoptive parents from Phobos' prison. Vathek, deeply impressed by the Guardians, in turn seeks help from Will (accidentally causing more problems between her and her mother) and takes Elyon's parents to join the rebels.
Following the debacle of Elyon's coronation, with Caleb out of action, Vathek takes charge of the rebels: leading them to hiding places and convincing Elyon to fight for her throne. Cornelia entrusts Vathek with the flower Caleb had been turned into and he promises to care for his fallen leader until she returns. This doesn't stop him from participating in the fighting: he takes the lead in ambushing Frost and a party while they are searching for Elyon. As Irma had asked, he was at the front of the crowd celebrating the victory over Phobos.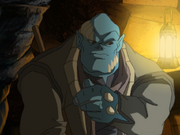 Abilities
Edit
Vahthek posses superstrength and is trained in sword fighting and limited hand to hand combat. 
In the comics he shows himself to be a charismatic leader. He's also sufficiently familiar with Earth to be go there and occasionally dons concealing clothes to move amongst humans.
References
Edit