Uriah's Gang
The bullies at 
Sheffield Institute
who love to cause trouble These greasy scoundrels are always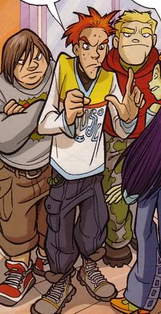 getting themselves into mischief and detentions. They act as the antagonists of the girls' social lives.
Members
Story
They love to cause trouble such as lighting fireworks in school, vandalize property, and commit robberies. Nigel used to be a part of their gang until he left to continue a relationship with Taranee. Since then, Uriah has held a strong hatred for Nigel and often tries to harm him and get him in trouble. These greasy scoundrels are always getting themselves into mischief and detentions. Their usual habits are sometimes used for comic relief. They also considered the Grumpers sisters being popular among themselves.
Gallery
Ad blocker interference detected!
Wikia is a free-to-use site that makes money from advertising. We have a modified experience for viewers using ad blockers

Wikia is not accessible if you've made further modifications. Remove the custom ad blocker rule(s) and the page will load as expected.