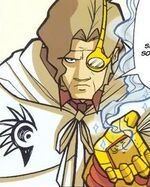 The Prophet is part of the supporting cast of the Eighth Saga of the W.I.T.C.H. comic book series.
Background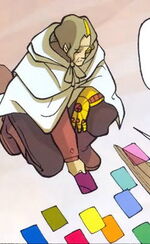 The Prophet is an old man dressed in a variety of robes and has a mechanical left arm. He works under the White Queen as her adviser. His ability is primarily fortune-telling and information gathering, where he uses his left arm to conjure cards which vaguely answers a person's question, most of the time the White Queen's.
The cards he conjure can only depict people and only displays the name of that person and a specific title which is somewhat relevant to the person's query.
Ad blocker interference detected!
Wikia is a free-to-use site that makes money from advertising. We have a modified experience for viewers using ad blockers

Wikia is not accessible if you've made further modifications. Remove the custom ad blocker rule(s) and the page will load as expected.