The Portal
is a magical instrument that appeared in the basement of 'Ye Olde Bookshop' after the defeat of Jonathan Ludmoore in
Issue 63: Arrival and Departure
.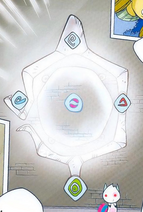 Appearance
It has a shape resembling the Heart of Kandrakar and has the symbols of the elements Earth, Air, Water, and Fire.
Usage
It works as a means of communication with other worlds including Kandrakar. The Guardians also use it to see things live at an unlimited distance, and as a direct entrance to any destination. The control of the portal is by thoughts which must be well controlled to avoid unwanted effects or results.
Trivia
A similar portal appears in the TV series. 
It was removed when Kandrakar was sealed and the girls obtained New Power.