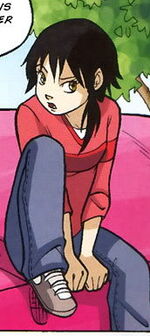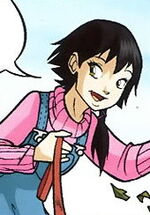 Sun and Luna Moore are part of the supporting cast in the W.I.T.C.H. comic book series. They first appeared in Issue 92 and later, in successive issues as cameo appearances.
Background
Sun and Luna are twin daughters of a veterinarian who works in Heatherfield in a clinic. They met Taranee and the Cook family when they decide to give the Guardian of Fire a pet to ease her loneliness from her brother Peter's moving out.
Sun and Luna are identical twins who were very close to each other before. It changed when Sun, the magical of the twins, discovered her power of communicating with animals. She realizes the wrongdoings of people who abandoned their pets and takes it as a sole responsibility which she shouldered alone, as she did not tell anyone about her powers, even her twin. Sun soon changes her outlook with other people, becoming somewhat anti-social, which worried Luna, who was the more cheerful of the two.
She helped the Guardians in fending off Mormers, creatures found in the Fast World, and later restores this good relationship with her sister Luna, who finally understood how Sun feels because of her powers.
Later, she participates in the mission of the Guardians to gather magical people.