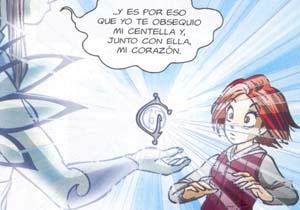 The
Star of Cassidy
was a magical item named after the former Guardian of Water,
Cassidy
.
Cassidy was accidentally killed by Nerissa, when Nerissa pushed Cassidy off a cliff. The Star of Cassidy was given to Will, who lost the Heart of Kandrakar to Nerissa after Nerissa escaped from her seal.
In the comics, the Star of Cassidy reveals to be a copy of the Heart of Kandrakar, previously part of Cassidy and later absorbed into the Heart itself. It was created from the spark the Heart left behind in Cassidy. It was passed on to Will as a replacement and its powers seem to be light colored rather than fuchsia based.
Ad blocker interference detected!
Wikia is a free-to-use site that makes money from advertising. We have a modified experience for viewers using ad blockers

Wikia is not accessible if you've made further modifications. Remove the custom ad blocker rule(s) and the page will load as expected.