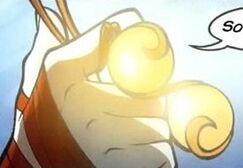 Shadiga's Necklace is a fictional object that appeared in the special issue Caleb and Elyon - Two Destinies.
History
The necklace was prominently featured in the special issue and sometimes give emphasis to the character Shadiga. After Caleb became the new guard he decided to merged the guard's lance into the Blue Destiny and hence gaining complete power of the guard after defeating the evil original guardian. Caleb ordered the prison to cease its existence without knowing what might happen to him and the prisoners. Afterward they are transported to a new world. Caleb, accepting his own destiny without Elyon wished to stay with Shadiga and the other prisoners. But Shadiga offered him a necklace that has the power to travel between worlds because she no longer has any desire to use it. Caleb accept the necklace and return to Elyon using the artifact.
Ad blocker interference detected!
Wikia is a free-to-use site that makes money from advertising. We have a modified experience for viewers using ad blockers

Wikia is not accessible if you've made further modifications. Remove the custom ad blocker rule(s) and the page will load as expected.