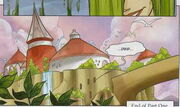 The Scarlet Citadel is the palace of Ari, ruler of the planet Arkhanta.
Home of Ari
The Scarlet Citadel is one of Ari's wishes from Yua, and serves as the fortress of Arkhanta. Here lives Ari (the ruler), his son Maqi and the numerous guards. At the depths of the castle lies the pond of the imprisoned banshee were Ari gives all his commands to his slave.
After the Guardians free Yua, she undoes all of Ari's whishes she granted, and the Scarlet Citadel disappears. After the W.I.T.C.H. rescue and heal Maqi, Ari makes the fortress be rebuilt again, this time without the help of magic. By the time the girls returns to Arkhanta as ambassadors of Kandrakar, the new Scarlet Citadel seems to be finished.