This is W.I.T.C.H.ipedia's article on the holes in the veil. For other uses, see The Twelve Portals (disambiguation).
Portals are holes in the veil that appeared randomly in all of the worlds in the universe, could be opened by Elyon or could be opened by the Heart of Kandrakar when it absorbed the Seal of Phobos. After the veil was lowered the portals "went poof" and folding was used to traverse worlds. The Guardians of the veil became the Guardians of the Infinite dimensions and the new purpose was to Protect the worlds.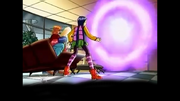 The Portals were blue and circular and could appear anywhere in a world even Underwater. The Portals featured in Season 1 of the TV series and 2 episodes of the second season the last Portal to appear was Purple and was created by the Oracle to summon the Guardians to Candracar similar ones were used to summon Yan Lin, The Mage, Caleb, Elyon and Blunk
In the Comics there are only 12 portals at any one time (there is no such limit in the series as the Seal of Phobos opens multiple due to being in Blunk's possession). Whitch is the Guardian's mission to Protect in Arc 1.