This is W.I.T.C.H.ipedia's article on the holes in the veil. For other uses, see The Twelve Portals (disambiguation).
Portals are holes in the veil that appeared randomly in all of the worlds in the universe or could be opened by the Heart of Kandrakar when it absorbed the Seal of Phobos. After the veil was lowered the portals "went poof" and folding was used to traverse worlds. The Guardians of the veil became the Guardians of the Infinite dimensions and the new purpose was to Protect the worlds.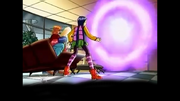 The Portals were blue and circular and could appear anywhere in a world even Underwater. The Portals featured in Season 1 of the TV series and 2 episodes of the second season the last Portal to appear was Purple and was created by the Oracle to summon the Guardians. 
Ad blocker interference detected!
Wikia is a free-to-use site that makes money from advertising. We have a modified experience for viewers using ad blockers

Wikia is not accessible if you've made further modifications. Remove the custom ad blocker rule(s) and the page will load as expected.