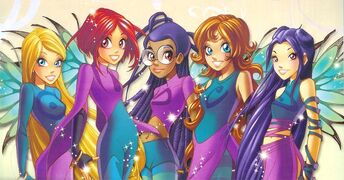 The New Power is a power/ability amplification and enhancement that involves a new outfit, new powers, and strengthening their old abilities to even greater power-levels. In Issue 75, the W.I.T.C.H. girls find that their old powers are gone, but then in Issue 76 they are able to transform into their magical forms again. Except this time, they have a whole new outfit. The girls discover that they cannot use these powers properly, and then Matt, who apparently knows of their secondary life offers to help them train. In order to use the girls magic New Power they must become one with their element and then earn their root, which is a pink band that makes them one with their power and have their element at its purest and most natural form.
Outfits
All of the outfits are conservative. Out of all the outfits, Cornelia's outfit and hair is the one that changes the least. Taranee's hair grows longer, Hay Lin's hair goes looses the 2 ponytails and acquires 2 buns on her head, Irma's outfit is less revealing than before and her hair grows, and Will has a full pant and shirt outfit. Each girl has their elemental symbol on their tops.
The wings are said to spread out up to 18 feet long, and all the girls can fly, but Irma, Taranee, Will and especially Cornelia have trouble with their new wings. Hay Lin is rather comfortable with them, since she had the ability to fly even before the New Power saga and has the power over air.
Abilities
Each girl earned their new power in their own unique ways:
Will earned her root by entering her dream world filled with pure spiritual energy and discovering the power of true friendship.
Irma earned her root by finding love in the power of lost rings while on a mission to defeat Dark Mother. (Her root achievement doesn't exactly represent water, so some fans are questioning the writer on how she got her root.)
Taranee earned her root by discovering she was adopted and finding out that fire entered her life early to protect her from Dark Mother, leaving her parents with no choice but to give Taranee away.
Cornelia earned her root by having a dream of her losing her way in a forest, and finding out it was true.
Hay Lin earned her power by entering 2 typhoons and sacrificing herself for the city of Heatherfield.