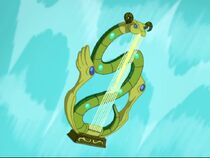 The Mystical Harp is a magical harp that appears in the animated series.
History
When Blunk and Caleb seek the Mage's help regarding the spell of the Horn of Hypnos, they explained how the object can enslave its victims, she later explained that by playing a melody using the mystic harp can counter the horn's effects. The Mage seemed to play this Telekentically. 
Ad blocker interference detected!
Wikia is a free-to-use site that makes money from advertising. We have a modified experience for viewers using ad blockers

Wikia is not accessible if you've made further modifications. Remove the custom ad blocker rule(s) and the page will load as expected.