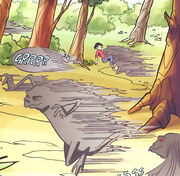 Mormers are fictional creatures from the Fast World. They appear in the eighth story arc of W.I.T.C.H.
Mormers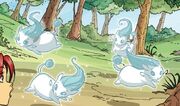 Mormers first appeared in the 92nd issue of W.I.T.C.H. They look like shadow boogies that run so fast they can set the surroundings on fire. Liam stated that Mormers are their world's worst nightmare. They move in circular patterns so their trails are hard to follow. These agile creatures are able to escape being hit by the girls, but thanks to Sun's ability to communicate with animals they are calmed and reverted to their original forms. They resemble to a cat-squirrel hybrid with a round jewel at the bottom of the tail.
Fauna of the Fast World
When W.I.T.C.H. entered the Fast Realm through Takeda's coldness, they spotted a Mormer in the White City caged in a crystal ball which can imply that these creatures are domesticated or even a pet of the denizens of the said world.