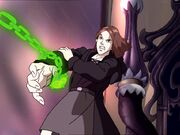 Miriadel is a Meridianite that took care of Elyon Brown as she grew up on Earth. In the comics, she was a captain in the army before Phobos' reign.
Chronology
Using the alias Elanor Brown, Miriadel raised Elyon until she was fooled by Cedric to cross the Veil into Meridian. She was taken captive and jailed in Cavigor until rescued by the Guardians.
After the defeat of Phobos, Miriadel took care of Elyon in the Meridian Castle during her reign as queen.