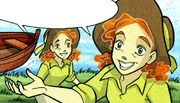 Mary and Jane Green are twins, and are best friends to Anna Lair. They haven't seen each other since Anna got married. They finally got reunited at Rewarm Lake, because of Irma wanting to do something for her mother. 
Ad blocker interference detected!
Wikia is a free-to-use site that makes money from advertising. We have a modified experience for viewers using ad blockers

Wikia is not accessible if you've made further modifications. Remove the custom ad blocker rule(s) and the page will load as expected.