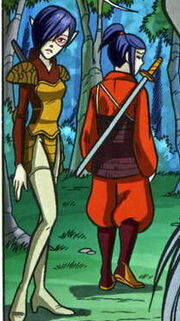 Kilubi is the feisty and colder minion of Yarr. She has dark purplish hair (like Orube) and pointy elf ears. She has red paint around her eyes. Appears somewhat tomboyish, with gold breastplates and shoulder plates as her battle attire. Her weapon is a sword and a whip.
Together with Ih-Sui they help their master Yarr and witness the return of Himerish. Later when Orube searches for the Oracle she was stopped by Ih-Sui and Kilubi.
Ad blocker interference detected!
Wikia is a free-to-use site that makes money from advertising. We have a modified experience for viewers using ad blockers

Wikia is not accessible if you've made further modifications. Remove the custom ad blocker rule(s) and the page will load as expected.