Joel Wright
is
Matt
's friend, and the bass player of their band
Cobalt Blue
.
Story
Joel and Irma seem to have crushes on each other, and Irma usually calls him Jay. He loves to surf, and he gives Irma surfing lessons. He is a talented cook. Joel is a Karmilla fan like Irma, and they first met each other in a Karmilla concert. He has a younger brother named Billy who is in the fourth grade; Billy is in the same class as Irma's half-brother, Chris.
Animated Series
Joel's role in the animated series is greatly reduced making appearances in only three episodes. He is the d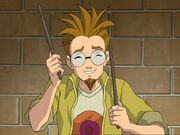 rummer for Matt's band, with Nigel playing bass. His debut is in
Walk This Way
, where he is wearing a black skull t-shirt, and his hair in covering his eyes. He makes a very minor appearance in
H is for Hunted
. where he appears in the background with most of his head being obscured by the neck of Nigel's bass.
Joel's final appearance is in the episode S is for Self, his appearance drastically changing, now looking identical to the way he does in the comics, with his hair spiked, and sporting a goatee and glasses.
Ad blocker interference detected!
Wikia is a free-to-use site that makes money from advertising. We have a modified experience for viewers using ad blockers

Wikia is not accessible if you've made further modifications. Remove the custom ad blocker rule(s) and the page will load as expected.