Jewell
is part of the supporting cast in the
W.I.T.C.H.
comic book series. His only appearance is in Issue 25,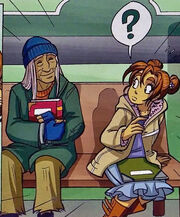 "Water Shadows".
In his first appearance, he looks like an elderly man with dark complexion and white hair. He wears an orange shirt under a dark green jacket, dark blue mittens, khaki pants, plack shoes and a dark blue beanie. He is also seen holding a red thick hardbound book.
Story
He is seen by Irma Lair in Heatherfield Police Department's headquarters where he is questioned in his involvement in a case regarding Mark Zibosky, an infamous extortionist. As if having knowledge about Irma's powers over Water, Jewell notes of her abilities, though it is hidden through his unusual way of speaking to her.
After being set free as a victim -- not an accomplice -- of Zibosky, Jewell talks to Irma and exposes his fortune-telling ability. In addition to that, he gives advice on Irma and the other Guardians. It later turns out that Zibosky holds Benjamin Crane who is Jewell's friend. The guardian searched for Mr. Crane and found him being held by Zibosky. Jewell and Crane look the same. Benjamin Crane explains that Jewell is a water shadow that helped him when he was drowning in the storm. Because Jewell has the ability to see the future he helped Crane find good fishing spots. It was discovered by Zibosky and used Jewell in illegal gamblings. The guardians fought for Jewell's freedom but Mark Zibosky managed to threw Jewell down the cliff in the lighthouse. Irma used her power to turn Jewell back into a water shadow.