The Other Part is the title of the 125th issue of the Italian comics series W.I.T.C.H.
Synopsis
Will promised to take care of Mr. Olsen's pet store during the summer, but didn't expect it to be so much work. Her best friends helped her out while she got stuck in traffic. During a quick detour she met a new friend, a baby dragon. Unfortunately, the friendly creature eventually had to return to his family.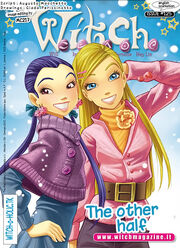 Ad blocker interference detected!
Wikia is a free-to-use site that makes money from advertising. We have a modified experience for viewers using ad blockers

Wikia is not accessible if you've made further modifications. Remove the custom ad blocker rule(s) and the page will load as expected.