Mathematically Possible is the title of the 122nd issue of the Italian comics series W.I.T.C.H.
Synopsis
Irma had some personal struggles and we got to see how she managed to deal with the stress of trying to be a teenage daughter, a good high school student, and a good friend - without any magic involved.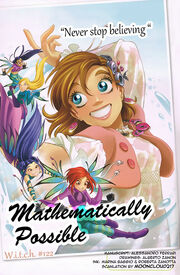 Ad blocker interference detected!
Wikia is a free-to-use site that makes money from advertising. We have a modified experience for viewers using ad blockers

Wikia is not accessible if you've made further modifications. Remove the custom ad blocker rule(s) and the page will load as expected.