Music In The Air is the title of the 119th issue of the Italian comics series W.I.T.C.H.
Synopsis
We got to follow Hay Lin on her new love daze for a boy she met through the family celebrations of the Chinese New Year. Perfect timing for valentine's day, too!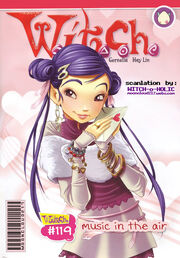 Ad blocker interference detected!
Wikia is a free-to-use site that makes money from advertising. We have a modified experience for viewers using ad blockers

Wikia is not accessible if you've made further modifications. Remove the custom ad blocker rule(s) and the page will load as expected.