All In A Day is the title of the 118th issue of the Italian comics series W.I.T.C.H.
Synopsis
Cornelia made some New Year's resolutions! She wanted to improve her family relations, become better at maths, learn French, start working out and learn how to apologize. Not bad for a teenager! Did she succeed?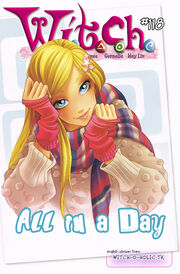 Ad blocker interference detected!
Wikia is a free-to-use site that makes money from advertising. We have a modified experience for viewers using ad blockers

Wikia is not accessible if you've made further modifications. Remove the custom ad blocker rule(s) and the page will load as expected.