Zodiac is the title of the 106th issue of the Italian comics series W.I.T.C.H.
Synopsis
A dark queen called Nihila, who wants to rule the world by controlling the 12 signs within astrology. When she noticed she couldn't control the five magical girls who make up WITCH, she decided to try a different approach terrfying Will who isnt immune to her power. Good thing Yan Lin found out about her plans and managed to contact our heroes before she was taken prisoner at the black star.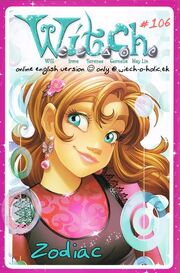 Ad blocker interference detected!
Wikia is a free-to-use site that makes money from advertising. We have a modified experience for viewers using ad blockers

Wikia is not accessible if you've made further modifications. Remove the custom ad blocker rule(s) and the page will load as expected.