"The Sands of Time" is the 11th issue in the Trials of the Oracle saga, and the number 47 overall issue of W.I.T.C.H.
Synopsis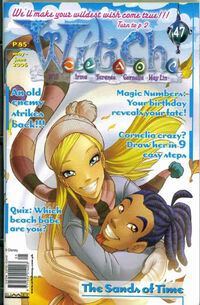 Clocks stop ticking, Meridian appears within Sheffield Institute, Yan Lin is alive, and Elyon's family mysteriously reappears... Strange occurences happen right after the five guardians come back from Kandrakar. Is this because of a crack in the magical hourglass that Cornelia protects?
Plot
Ad blocker interference detected!
Wikia is a free-to-use site that makes money from advertising. We have a modified experience for viewers using ad blockers

Wikia is not accessible if you've made further modifications. Remove the custom ad blocker rule(s) and the page will load as expected.