"Shadows of Tomorrow" is the 6th issue in the Arc 2: Nerissa's Revenge Saga, and the number 21 overall issue of W.I.T.C.H.
Synopsis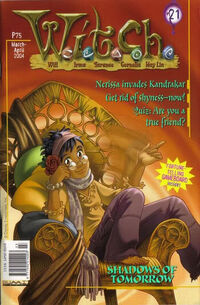 The sinister Nerissa tries to enter the gates of Kandrakar! Without their powers, the girls are no match for her. But they won't give up! With the help of Eric's grandpa, they discover the Star of Cassidy and get their powers back.
Plot
Ad blocker interference detected!
Wikia is a free-to-use site that makes money from advertising. We have a modified experience for viewers using ad blockers

Wikia is not accessible if you've made further modifications. Remove the custom ad blocker rule(s) and the page will load as expected.