"A Gust of Hate" is the 5th issue in the Arc 2: Nerissa's Revenge Saga, and the number 20 overall issue of W.I.T.C.H.
Synopsis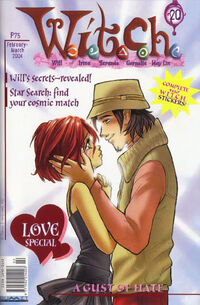 The lives of the guardians return to normal--a world without Nerissa! In Heatherfield, strange linger in Will's mind, causing her to doubt her friends. At the school's farewel party for Mrs. Rudolph, Nerissa's wicked trick is uncovered... and she succeds in taking the Heart of Kandrakar from Will by disguising herself as Matt!
Plot
Ad blocker interference detected!
Wikia is a free-to-use site that makes money from advertising. We have a modified experience for viewers using ad blockers

Wikia is not accessible if you've made further modifications. Remove the custom ad blocker rule(s) and the page will load as expected.