"Don't Close Your Eyes" is the 2nd issue in the Arc 2: Nerissa's Revenge Saga, and the number 17 overall issue of W.I.T.C.H.
Synopsis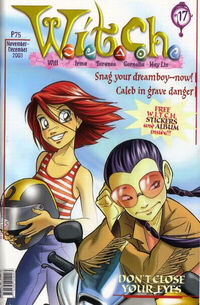 Nerissa uses her powers to create three more minions: Shagon, Tridart and Ember and sends them out to destroy the W.I.T.C.H. girls, who are currently on separate vacations. Will continues having bad dreams and Luba tries to capture Caleb through Cornelia, but fails when Caleb is captured by Nerissa's minions.
Plot
Ad blocker interference detected!
Wikia is a free-to-use site that makes money from advertising. We have a modified experience for viewers using ad blockers

Wikia is not accessible if you've made further modifications. Remove the custom ad blocker rule(s) and the page will load as expected.