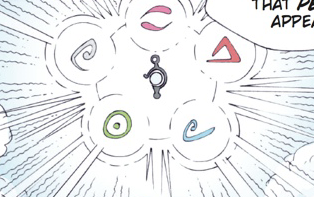 The Guardians of Kandrakar are a group of magical warriors chosen to protect Kandrakar, the center of the universe. Each Guardian rules over one the basic natural elements of Water, Fire, Earth, and Air. The leader rules over Energy or Quintessence, and controls the Heart of Kandrakar, the magical pendant that allows the Guardians to transform into their superhero alter egos by channeling the power of the Aurameres.
In the first season of the animated series, the Guardians were named the Guardians of the Veil. Later in the second season, they were referred to as the Guardians of the Infinite Dimensions.
When the Guardians transform, their appearance is similar to that of fairies. However, except the Guardian of Air, they could not fly, despite having wings. In the TV series, all five guardians could fly, though the Guardian of Air would be the fastest flyer.
Before striking their ending poses during the transformations, all guardians call out the names of their elements, except Will, who says Keeper! and later The Heart! in the first season. But in the second season she yells Quintessence!.
Quinto-Guardians
A Quinto-Guardian, is a Guardian that has all of the powers and abilities over all five elements: Energy, Water, Fire, Earth and Air including the individual powers/abilities of other guardians.
Comics
Cornelia
Cornelia became a Quinto-Guardian after touching, and opsorbing the powers of the Altermere. The five elements combining in one person released Nerissa from her prison. Cornelia used her new powers to turn Caleb human again, after Phobos turned him into a flower. Luba, who had accidentally created the Altermere removes the power from her.
Nerissa
Nerissa becomes a Quninto-Guardian, after she gains the heart of Kandrakar, but loses this power after Will regains the heart.
Sixtar
Sistar is the 5 Guardians fused into one, she possessed the powers, and abilities of all the Guardians.
Tv Series
Cornelia became a Quinto-Guardian which she was fueled by all five Aurameres the source of the Guardians' elemental powers over Water, Fire, Earth, Air, and Quintessence In N is for Narcissist, Nerissa tried to absorb the power of the Auremeres
Nerissa later gains control and manipulation over all five elements, when she absorbs her former friends into her Seal thus becoming a Quinto-Guardian herself.
Members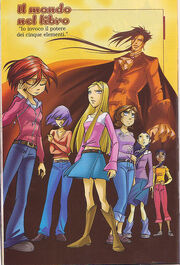 New generation of guardians
Main article: W.I.T.C.H. (Guardians)
Previous generation of guardians
Main article: C.H.Y.K.N.
Trivia
No male guardians have appeared in the comics, nor the animated series, but, it may be possible that there have been male guardians of Kandrakar. In the comics, it is shown that there were teams of Male guardians in the past, during the Core of Kandrakar special.
As the Heart of Earth, Lillian may be the next guardian of earth when new guardians are in need.
If there have been male guardians, Chris, Irma's brother, could be one of the next guardians as the guardian of water.