Dragons are fictional creatures that appear in both the TV series and Comic book adaptations.
Legends and existence
The Dragons were first mentioned in the 9th issue of W.I.T.C.H. and the Guardians discovered that their powers originated from the nymph Xin Jing and The Four Dragons.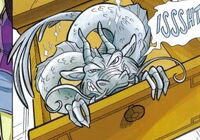 Whereas the Yellow Dragon loves the earth, the Red Dragon loves to swim, the Black Dragon flies the highest and the Pearl Dragon breathes the strongest flames. The Guardians then realize the origins of their power.
In the 39th issue of W.I.T.C.H. the Silver Dragon appeared to Hay Lin and is actually a spirit protector of the Lin family.
In Season 2 of the TV series Lillian conjured a Dragon after Cornelia and the others discovered she was the Heart of Earth. 
Ad blocker interference detected!
Wikia is a free-to-use site that makes money from advertising. We have a modified experience for viewers using ad blockers

Wikia is not accessible if you've made further modifications. Remove the custom ad blocker rule(s) and the page will load as expected.