"
Illusions and Lies
" is the 6th book in the series.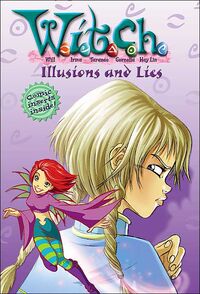 Synopsis
Will, Irma, Taranee, Cornelia, and Hay Lin know all about illusions. Since they discovered their powers as Guardians of the Veil, they have kept their secret hidden. While the girls use deception only to protect people, Cedric uses lies to turn the girls against one another. It is not until Will's life is put in danger that the other Guardians discover that the one thing that is not an illusion is true friendship
Ad blocker interference detected!
Wikia is a free-to-use site that makes money from advertising. We have a modified experience for viewers using ad blockers

Wikia is not accessible if you've made further modifications. Remove the custom ad blocker rule(s) and the page will load as expected.