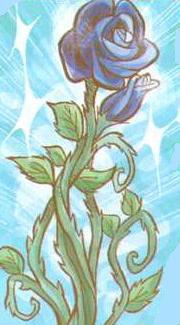 Black Roses
are enchanted flowers that
Phobos
used to defend his castle. They first appeared in Out of the Dark in Between Light and Dark
To materialize these plants, he tried to convince the royal gardener to culture the evil flowers but he refused, Phobos cruelly came into action and transformed the gardener's family (his wife and daughter) into the first roses. These black roses have the ability to turn anyone it has pricked on by its thorn into another rose (unless they have strong magic) and so formed a barrier surrounding the castle protecting Phobos from any outside threats. Being a gaurdian, Will had the invulnerability to the rose's magic and survived. Even being the guardian of Earth, Cornelia had trouble holding them back as they contain Phobos's dark magic.
The Black Roses made an appearance throughout the first season of the animated series W.I.T.C.H. when Phobos had stolen the throne of Meridian and corrupted and tyrannized the whole kingdom before his defeat at the hands of both the W.I.T.C.H girls and his sister Elyon. He said in the Book of Secrets that after he planned to drain Elyon of her power, he will "leave her withered soul to spend eternity as a black rose".
Ad blocker interference detected!
Wikia is a free-to-use site that makes money from advertising. We have a modified experience for viewers using ad blockers

Wikia is not accessible if you've made further modifications. Remove the custom ad blocker rule(s) and the page will load as expected.