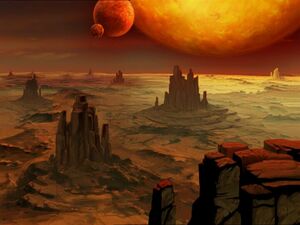 Aridia
is a planet that is part of the
W.I.T.C.H
. universe.
Nerissa
says that there are no guardians to protect the Heart of Aridia and sees it as an easy target.
History
Aridia appeared in the episode V is for Victory of the TV series. It's described as a vast world with canyons, filled with rock giants, and is dominated by its scarlet skies which can be also seen with planets. There exists the Heart of Aridia which is the very center and vessel of the planet's natural energies. The heart is a large stone creature who Nerissa tries to trick into giving her the heart.
Ad blocker interference detected!
Wikia is a free-to-use site that makes money from advertising. We have a modified experience for viewers using ad blockers

Wikia is not accessible if you've made further modifications. Remove the custom ad blocker rule(s) and the page will load as expected.